High Power Laser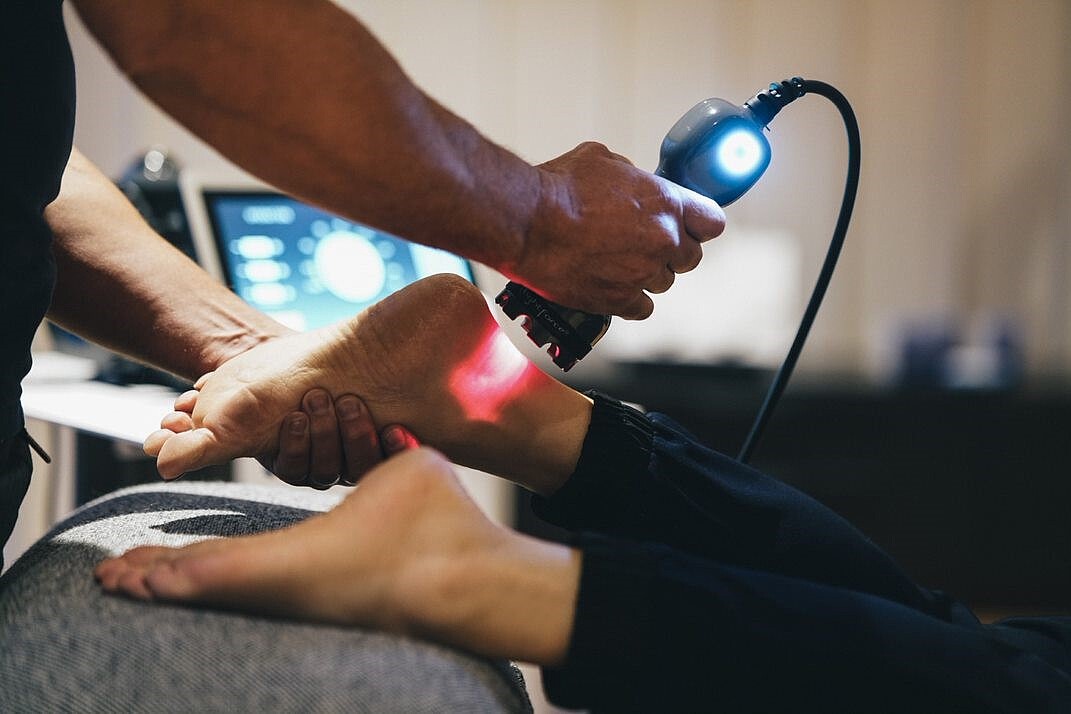 Regeneration and Pain Reduction in short Time
Laser therapy is a clinically proven effective adjacent treatment modality in the physical therapy practice intended for the relief of painful muscles and joints associated with acute and chronic tissue injuries. It is also indicated for helping relieve pain and stiffness associated with osteoarthritis through its ability to increase localized blood flow.
Although Low Level Laser Therapy (LLLT) devices have been used in physical therapy treatments for decades, their relative low power means treatment times are excessive and impractical when treating larger areas and/or deeper tissues.
However, High Power Laser (HPL) therapy devices are capable of delivering sufficient power (at a level of Watts compared to the mW output of LLLT devices) to achieve therapeutic dosage without prolonging the application time. This allows treatment of a wider range of indications including deep and large structures within reasonable times, making HPL both an effective and practical physical therapy modality.
LIGHTFORCE® DEEP TISSUE LASER THERAPY™
LightForce® Therapy Lasers are known around the world for innovative technology and evidence-based treatment solutions. With thousands of customers across the globe, Chattanooga® estimates over 1 million+ treatments are performed using LightForce® Therapy Lasers per month. LightForce® Therapy Lasers are unique among laser devices in having a singular focus in rehabilitation and pain management.
INDICATION:
Deep Tissue Laser Therapy™ is used to treat painful muscles and joints associated with acute and chronic soft tissue injuries. It is also indicated for helping relieve pain and stiffness associated with osteoarthritis via its ability to increase localized blood flow. These factors make therapeutic laser a sensible modality choice for post-activity recovery. Treat larger, deeper areas and provide faster pain relief with real time dosing feedback. Chattanooga's most powerful laser, the 40W LightForce® XLi impacts deep tissue faster for pain relief in less time. The LightForce smart hand piece and onscreen recommendations increase dosing accuracy and help clinicians treat with confidence.
Literature
Chow RT, Johnson MI, Lopes-Martins RA, Bjordal JM. Efficacy of low-level laser therapy in the management of neck pain: a systematic review and meta-analysis of randomised placebo or active-treatment controlled trials. Lancet. 5. Dez 2009;374(9705):1897-908. doi: 10.1016/S0140-6736(09)61522-1. Epub 2009 13. Nov. Erratum in: Lancet. 13. Mär 2010;375(9718):894. PMID: 19913903.
Alayat MS, Atya AM, Ali MM, Shosha TM. Long-term effect of high-intensity laser therapy in the treatment of patients with chronic low back pain: a randomized blinded placebo-controlled trial. Lasers Med Sci. Mai 2014;29(3):1065-73. doi: 10.1007/s10103-013-1472-5. Epub 2013 2. Nov.
Yousefi-Nooraie R, Schonstein E, Heidari K, Rashidian A, Pennick V, Akbari-Kamrani M, Irani S, Shakiba B, Mortaz Hejri SA, Mortaz Hejri SO, Jonaidi A. Low level laser therapy for nonspecific low-back pain. Cochrane Database Syst Rev. 2008 Apr 16;(2):CD005107. doi: 10.1002/14651858.CD005107.pub4. PMID: 18425909.
Holanda VM, Chavantes MC, Silva DF, de Holanda CV, de Oliveira JO Jr, Wu X, Anders JJ. Photobiomodulation of the dorsal root ganglion for the treatment of low back pain: A pilot study. Lasers Surg Med. Sep 2016;48(7):653-9. doi: 10.1002/lsm.22522. Epub 2. Mai 2016. PMID: 27135465.
Jovicić M, Konstantinović L, Lazović M, Jovicić V. Clinical and functional evaluation of patients with acute low back pain and radiculopathy treated with different energy doses of low level laser therapy. Vojnosanit Pregl. Auf 2012;69(8):656-62. PMID: 22924260.
Abbasgholizadeh ZS, Evren B, Ozkan Y. Evaluation of the efficacy of different treatment modalities for painful temporomandibular disorders. Int J Oral Maxillofac Surg. Mai 2020;49(5):628-635. doi: 10.1016/j.ijom.2019.08.010. Epub 21. Sep 2019. PMID: 31547949.
Khairnar S, Bhate K, S N SK, Kshirsagar K, Jagtap B, Kakodkar P. Comparative evaluation of low-level laser therapy and ultrasound heat therapy in reducing temporomandibular joint disorder pain. J Dent Anesth Pain Med. Okt 2019;19(5):289-294. doi: 10.17245/jdapm.2019.19.5.289. Epub 30. Okt 2019. PMID: 31723669; PMCID: PMC6834715.
Roberts DB, Kruse RJ, Stoll SF. The effectiveness of therapeutic class IV (10 W) laser treatment for epicondylitis. Lasers Surg Med. Jul 2013;45(5):311-7. doi: 10.1002/ lsm.22140. Epub 3. Jun 2013. PMID: 23733499.
Dima R, Tieppo Francio V, Towery C, Davani S. Review of Literature on Low-level Laser Therapy Benefits for Nonpharmacological Pain Control in Chronic Pain and Osteoarthritis. Altern Ther Health Med. Sep 2018;24(5):8-10. PMID: 28987080.